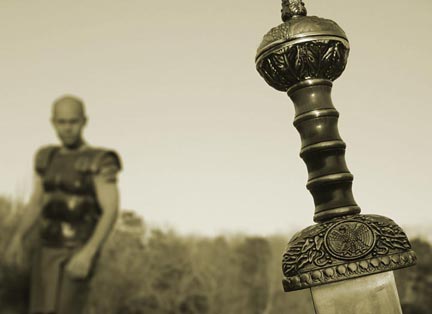 For 1,000 years, soldiers wielding the "Gladius",
or Roman short sword, ruled the world.
This most reliable weapon cut swiftly and decisively in all directions, and has come to best symbolize our varied basket of tactical trading strategies and methodologies.
Gladius Asset Management, LLC is a Commodity Trading Advisor (CTA) and Commodity Pool Operator (CPO) as authorized by the Commodity Exchange Act and regulated by the NFA and CFTC.
Pursuant to applicable CFTC Rule 4.7, our fund is restricted to "Qualified Eligible Participants" (QEPs).

Gladius Asset Management, LLC
303 N. Main Street
Suite 5
Antioch, Illinois
60002
Office 224-788-8959
Fax 224-788-8725


contact - request investor information

The opinions expressed herein are strictly those of Gladius Asset Managment, LLC, and are intended solely for informative purposes. The information and opinions contained herein ("Information") are derived from sources believed to be reliable but such reliability has not been verified by Gladius Asset Management, LLC and its accuracy is in no way guaranteed. Under no circumstance should the Information be construed, by implication or otherwise, as an offer to sell or a solicitation to buy or trade in any commodities, securities, options or futures nor does the Information constitute investment advice or recommendations regarding particular financial instruments, investments, or products. Any decision to buy, sell or trade in such commodities, securities, options or futures should not be based upon the Information.